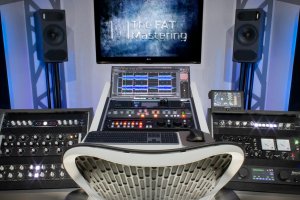 | | |
| --- | --- |
| Location: | Yorkshire, UK |
| Est: | 2010 |
| Service: | Dedicated Mastering Studio |
| Gear: | PMC TwoTwo 6, PMC TwoTwo Sub1, Lynx Hilo (A/D D/A Converter), SPL Hermes (Mastering Router), Elysia Xfilter Mastering Edition (Stereo EQ), Gyraf Audio G14-S (Passive Tube EQ), TK Audio TK-Lizer (Baxandall EQ), TK Audio BC2 Mastering Edition (VCA Comp), Thermionic Culture The Phoenix Mastering Plus (Vari-MU Tube Compressor), Bettermaker Darthlimiter (Limiter), SSL Fusion. |
| Price: | £45 per/track. |
| WebSite: | https://thefatmastering.com |
Hi, I'm Nicky, I run The Fat Mastering, a dedicated mastering facility specialising in Electronic Music. Need a modern sound that'll make your music STAND OUT! Let's work together.

Amplifying To Perfection. As a professional mastering engineer of 18 years, I founded The Fat Mastering in 2010, a state of the art facility based in Yorkshire (UK) designed and built from the ground up with one purpose, Mastering. The most desirable analogue equipment and cutting edge digital processing deliver a truly modern sound.

Leading musicians know the significance of music that STANDS OUT!
They also know the fundamental value that only an experienced mastering engineer brings to accomplishing this. I'm a mastering engineer who will define, illuminate and magnify the very essence of your music.

I love to support, explain and inspire the best from you and your art. ????

Equally at home with major and independent artists, I simply love to work with people who are passionate about getting the very best out of their music. As a fully certified member of the Music Producers Guild and university graduate Masters Degree holder, I'm well qualified for my job.

As a mastering engineer, working with a style of music that you know every detail about is essential. The genres I listen to every day are Electronic, Pop, Dance, House, Techno, Trance and Rap/Hip-Hop. This focus on a range of specific styles is how I create outstanding Masters.