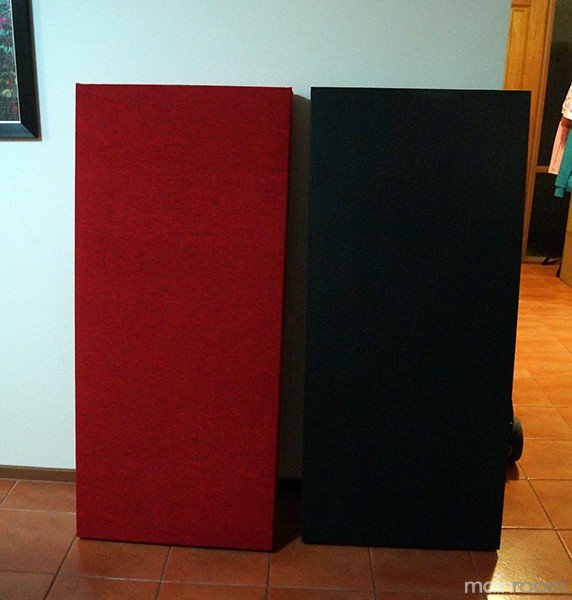 This is a tutorial for you to create your own acoustic panels or, at least, to make them the way I did. These feature a double frame design, which is something I came up with to have the insulation/rockwool batt away from the wall.
Anyway, instead of rockwool I used a similar product called "soundscreen", which is designed specifically for sound absorption. I paid AU$48 for each pack of 8 batts (got two packs). Measurements for each batt are 1160mm x 580mm. Thickness is 70mm. These are as sound-absorbent as 100mm rockwool panels. What kind I say, the stuff is amazing, not itchy at all and it is super safe and fire-retardant.
I used pine 90mm x 19mm timber for the frame and I used a smaller 20mm x 20mm bits of wood for an inner frame on which the soundscreen batt sits; this also helps to keep the batt away from the wall by about 20mm. Every bit of wood was glued, drilled and screwed.
For the fabric I used:
Back of panels - Enviro cloth spun bonded at a ridiculous AU$0.99 per metre*
Front of panels black - Enviro cloth spund bonded (a bit heavier) AU$3.99 per metre*
Front of panels red - Indian cotton < a beautiful dark red that is very breathable. This are much nicer and will be used in a living room.
*The enviro cloth spun bonded is very similar to the stuff they put on top of speakers, just thicker and stronger. Extremely breathable stuff, but JUST not see-through.
The final measurement of the panels is 618mm x 1388mm, including the frame.
All materials for 8 panels was AU$544.00. This also includes some tools I didn't have such as big-ass stapler, framing materials, lots of screws, countersink drill bits, etc. Roughly, about $55-$60 per panel. As a reference, an Australian dollar is very close to the US dollar.