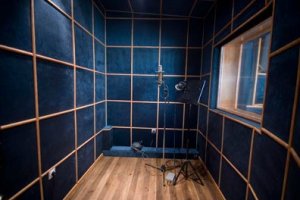 Located in peaceful neighborhood in the capital city of Serbia, Belgrade.
Owned by one of the greatest musicians in the Balkans, Vlado Georgiev. He is singer, musician and songwriter.
Studio Barba is known as one of the best recording studios in Europe.
Studio design is inspired by the mediterranean sea, with artistic and relaxing atmosphere.
Studio entrance leads clients directly to the lounge room that hosts a bar providing all sorts of drinks. Next to this lounge room is a base of this studio – great control and recording room, with an amazing acoustic treatment made for precise mixing and recording.

Studio Barba is based on fabulous (and rare, only 18 made) Amek 9098i mixing console.
Mixing room is equipped with plenty of finest high-end analog hardware, and with great selection of legendary analog synths including modern classics as well, makes studio ideal for complete songwriting recording, mixing and mastering process.